Investment at last!
On top of the money coming from West Yorkshire Combined Authority to reduce congestion in the town and create a better environment for residents, businesses and visitors, the Council agreed to invest another £1.5m.
Details of the Town Access Plan can be found here
Once the design for the changes to the town centre has been developed, the Council will share details with local people and invite them to share their views on the proposals, before submitting the planning application. The full business case will be submitted to the West Yorkshire Combined Authority in summer 2022, subject to its approval and securing all necessary consents the Council expects to commence construction early in 2023.
The Small Towns Investment fund will help the town centre transform so it remains a place where people want to spend their time and money, be with others and enjoy themselves.
The Council's Cabinet, at its meeting held on 16 March 2021, was impressed by the amount of consultation we have carried out over the years and the thought already given to what changes we would like to see happen. You can watch the meeting by clicking here.
Despite this, Kirklees decided to carry out its own consultations during the Autumn of 2022 using the Place Standard tool. The results are published on the How Good is Your Place web site. Further consultations with the Council's appointed consultants, the Steer Group, will take place over the Summer to flesh out the ideas we already have. These are summarised below: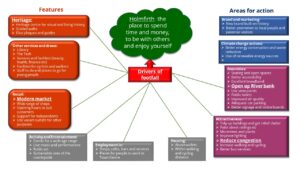 This is our chance to transform our town centre in the ways we want